From a scientific article: De Pablos et al., 2019.
Do you like olives? Olive oil? Do you already know that they have multiple health benefits? A group of European researchers have just published an article on their anti-aging effects.
In the first article, I started by introducing you to olive oil and the fact that the majority of its health benefits are related to its polyphenol content. The most important polyphenol, both in terms of quantity and health benefit, is hydroxytyrosol. This fantastic molecule is used as the main standard for the Provitol Complex in Vitoli products.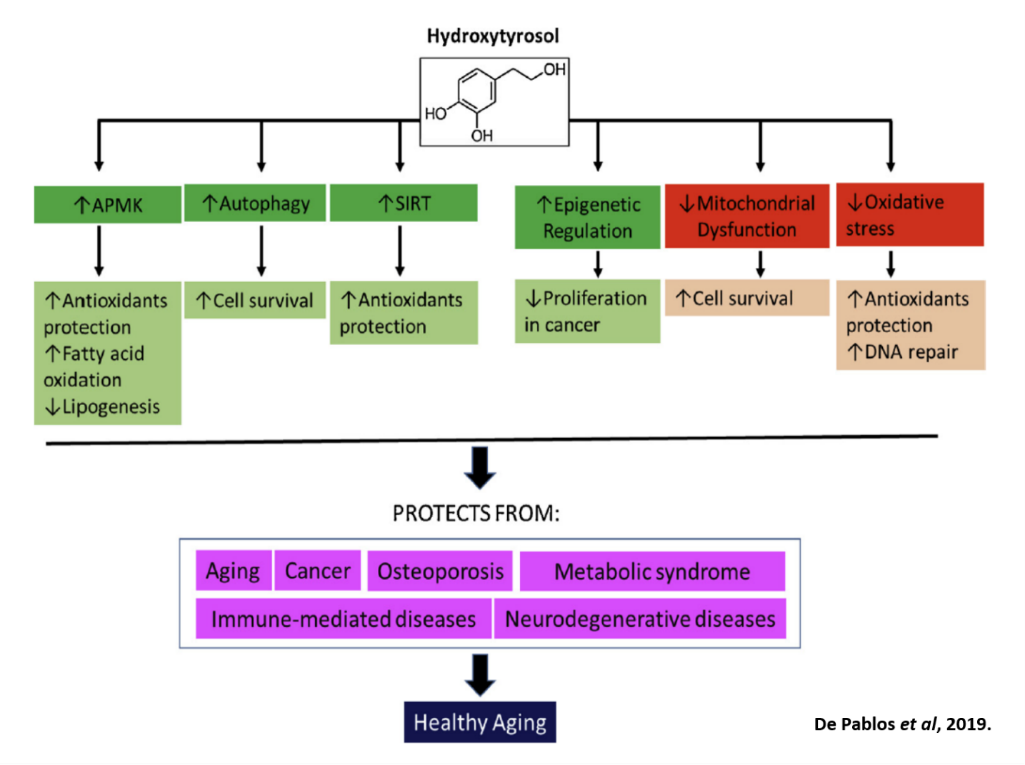 I will continue my explanation on this important scientific publication in order to better describe why hydroxytyrosol may increase healthy life expectancy.
Directed prevention
What allows olive polyphenols to affect healthy life expectancy are their impacts on primary aging. There are mechanisms that improve cellular function to reduce the incidence of diseases associated with aging. Two leading scholars have called this approach "Controlled Prevention" or "The Ultimate Preventative Medicine".
Miroslav Radman, DNA repair specialist and member of the Academy of Sciences, calls it: Controlled prevention.
Matt Kaeberlein, considers modulators of primary aging to be "The Ultimate Preventative Medicine"; because the ultimate preventative medicine is to slow down the body's urge to age.
It is for this reason that De Pablos et al. mention that hydroxytyrosol protects against aging. It reduces the body's urge to age, which acts on all associated diseases. This exciting topic is my area of research. With Concordia University, we publish scientific articles in fundamental research on primary aging.
The ability to enjoy life
We all want to live longer, but what's even more important is having the ability to enjoy life. To still be able to travel at 90, to play with your grandchildren, to take care of your house, to see friends.
De Pablos and his collaborators reviewed all of the cellular mechanisms behind the antiaging effects of hydroxytyrosol. These are effects on:
Reduction of lipogenesis (fat production)
Increased lipolysis (the breakdown of fat)
Increased cell survival
Increased antioxidant capacity
Increased DNA repair
Improved mitochondrial health
Epigenetic changes with preventive effects on cancer
What is most interesting in this scientific article is that these mechanisms of action are subsequently linked to health benefits associated with prevention or aging. The authors present a large number of animal studies, but also human clinical studies. 18 clinical studies are reported on various subjects such as:
osteoarthritis,
cardiovascular illnesses,
cholesterol problems and
metabolic problems.
Studies are underway on inflammation and breast cancer. It is hydroxytyrosol (olive polyphenol) in doses achievable through food or as a supplement. It often happens that clinical studies are carried out using relatively high doses and that it is difficult to find equivalent doses in the products on the market. Here, this is not the case.
Hydroxytyrosol; the necessary dose
This is a very important subject in human health. It is not enough to have a single molecule to have a health benefit, it must be of good quality and in sufficient quantity to provide a health benefit as demonstrated in clinical studies.
For hydroxytyrosol, a wide analysis of the scientific literature led the European Union to approve a health claim for 5 mg of hydroxytyrosol and its derivatives per day. This is a claim for reducing the risk of cardiovascular disease related to blockage of the arteries by oxidized bad cholesterol (known as atherosclerosis). It is on this health claim that we based the dosage of the Provitol Complex in Vitoli products.
In my first book, I mentioned that a study had shown a highly significant impact on systemic oxidation, oxidation throughout the body, starting at 1 mg per day of hydroxytyrosol. The dose adopted by the European Union for the health claim is 5 mg.
Note that hydroxytyrosol is a very safe molecule. Comprehensive toxicity testing was conducted in 2010 in the United States for its use as a medicine. No toxic effects were reported even at very high doses, doses up to 100 times what has been tested in clinical studies.
The dosages used in clinical studies, reported by De Pablos et al, range from 0.5 mg per day to 100 mg (in only one study). The majority of studies have been performed with doses of 5 to 10 mg per day. This roughly corresponds to the amount consumed by followers of the Mediterranean diet in Europe; people who consume very high-quality olive oil in amounts of 25 to 50 ml every day. These are therefore dietary doses.
Note in closing that there are very few molecules known until now that act on the primary aging of the organism. It has nothing to do with oxidation; it is not the oxidation that is responsible for primary aging. The modulators of primary aging best documented in clinical studies for their beneficial effects are hydroxytyrosol and resveratrol which you find in Vitoli Healthy Aging.
References:
Cicerale et al, 2010. Biological Activities of Phenolic Compounds Present in Virgin Olive Oil. Int J Mol Sci. 2010; 11(2): 458–479.
de Pablos et al, 2019. Hydroxytyrosol protects from aging process via AMPK and autophagy; a review of its effects on cancer, metabolic syndrome, osteoporosis, immunemediated and neurodegenerative diseases. Pharmacological Research 143 (2019) 58–72.
Eric Simard, Dr en biologie. 2016. Vivre jeune plus longtemps; Chapitre 3.2, Les polyphénols d'olives et la diète méditerranéenne. Marcel Broquet la Nouvelle édition. 364 pages.
Menendez et al, 2013. Xenohormetic and anti-aging activity of secoiridoid polyphenols present in extra virgin olive oil. A new family of gerosuppressant agents. Cell Cycle 12:4, 555–578; February 15, 2013.
Peyrol et al, 2017. Hydroxytyrosol in the Prevention of the Metabolic Syndrome and Related Disorders. Review. Nutrients 2017, 9, 306.
Visioli et al, 2002. Antioxidant and other biological activities of phenols from olives and olive oil. Med Res Rev. Jan;22(1):65-75. Review.
Barzilai, et al, 2012. The rationale for delaying aging and the prevention of age-related diseases. Rambam Maimonides Med J. 2012 Oct 31;3(4)