BASE Products
BASE products are a part of the objective of Idunn Technologies (a Canadian company specializing in healthy longevity) to provide all the information and quality supplements necessary for optimal health. In order to complete what Vitoli products have to offer, which aims to provide the most effective products for specific health applications, Idunn Technologies has developed BASE products for daily fundamental needs.
With the same scientific rigor that enabled the creation of Vitoli products, Idunn Technologies now makes the following available:
Omega-3s with the highest quality standards, in therapeutic doses,
Liquid vitamin D3 allowing you to easily adjust your daily or weekly dosages, and
A unique probiotic formula derived from Canadian discoveries.
These new products will optimize your BASIC needs towards optimal health.
Therapeutic dose of omega-3s
A therapeutic dose of omega-3, necessary to obtain the benefits demonstrated by published clinical studies, is considered higher than 1800 mg of EPA and DHA per day. Clinical studies are generally carried out with dosages ranging from 2000 to 4000 mg per day of EPA and DHA. Idunn Technologies has therefore decided to make products available with the highest quality standards in the industry with IFOS and FOS certifications, while respecting the concentrations necessary to achieve therapeutic dosages.


The highest standards (IFOS = external analyzes and FOS = environmental protection).


100% anchovies: caught for us.


Extraction without solvent.


800 IU vitamin D3/day (fish).


Allows you to adjust the dose according to your diet (recommendation of 3 to 4 portions of oily fish/week vs. 4 omega-3 BASE capsules/day).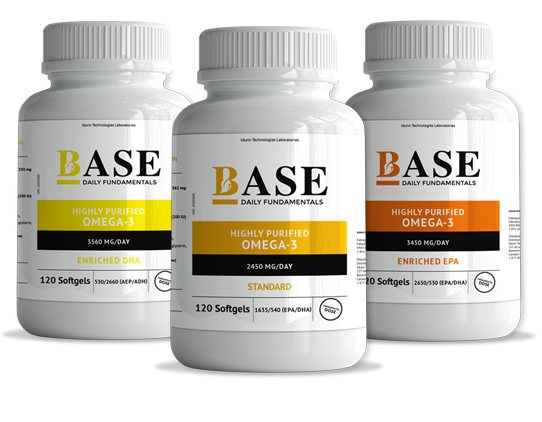 Vitamin D3
Vitamin D3 is one of the daily essentials. Due to the tilt of the earth, exposure to the sun does not allow adequate production of vitamin D3 during most of the year. Only a few months of summer can produce enough if we are exposed without the use of sunscreen. Dietary sources contain very little and do not allow significant levels to be reached. Vitamin D3 is therefore one of the BASIC supplements that we should all take in order to ensure physiological levels beneficial for healthy longevity.


1000 IU/drop in coconut oil.


Up to 800 doses per bottle.


Allows you to easily adjust the daily or weekly intake according to your needs.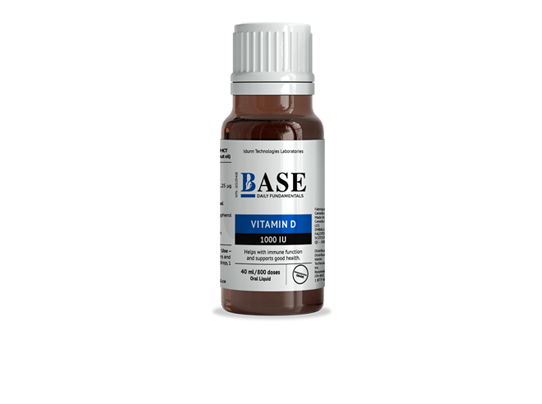 Probiotics
The health of the intestinal microbiota is without a doubt an important element of our physiological balance. As much for the immune system, as for inflammatory processes, for the digestion and adsorption of vitamins and nutrients, as for the healthy management of anxiety and other mood disorders; the intestinal microbiota is at the heart of our health. Probiotics should therefore be part of the daily fundamentals for many. Idunn Technologies therefore offers you a unique 3-in-1 BASIC formula which combines benefits for intestinal symptoms/digestion disorders, for intestinal transit issues (constipation or diarrhea) and the balance of the microbiota with the presence of postbioticsbased onCanadian research.
6 strains, 15 billion active bacteria per capsule.
Unique 3-in-1 formula.
Gastric protective capsules.
Individual packaging for better stability.
Derived from Canadian research.