After 6 months of strictly following the ketogenic diet, I felt very good about myself. In the previous article, I mentioned having noticed an improvement in my energy, the quality of my sleep and my physical endurance. Know that after 6 months on this diet, these 3 aspects were still present. I was pleasantly surprised!
Let's continue now with my results and observations after half a year with this dietary change.
Overview of my physical results
Thanks to a scale that calculates the percentages of fat, muscle and visceral fat, I was able to note these additional results as of March 12, 2018. As you can see in the table below, this allowed to harvest even more data during this experience.

Even if my main goal was not to lose weight, I still lost almost 15 lbs. since the start of this adventure. We also notice a decrease in the percentage of my fat (-6.7%) as well as my visceral fat (-3). This drop in visceral fat made my hypertension disappear!
Dieting can be of concern because of its tendency to create a loss of muscle mass. Fortunately, in this case, my muscle mass had increased in the first 6 months (+ 2.7%).
After these 6 months, I must tell you that I felt good in my body and people around me told me that my skin seemed to have rejuvenated.
What did my blood tests reveal?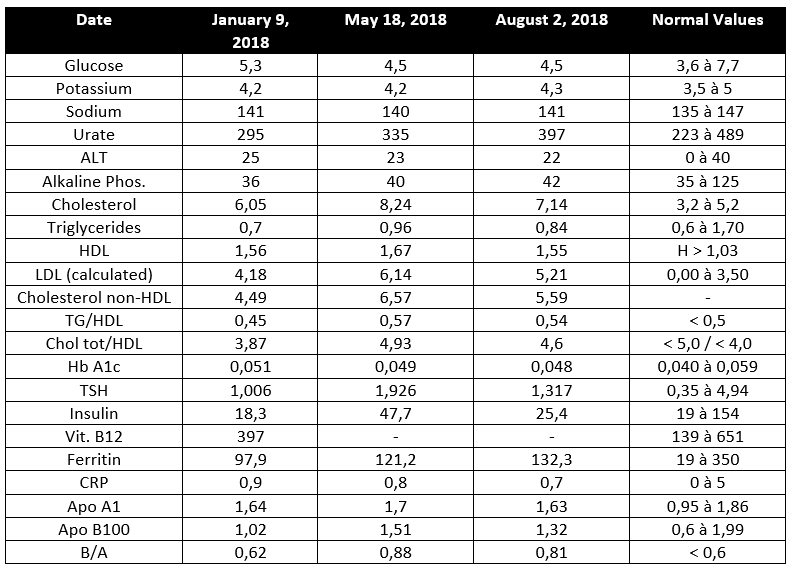 The level of my cholesterol might surprise you. Know that you should not worry, because after my research, carried out before the beginning of my adventure, I had read that it was normal to see an increase in the cholesterol level which would decrease after the first 3 months. You can actually see this drop between my 3-month and 6-month blood test. My results linked to my cholesterol therefore reflected the "normal" figures for this diet.
With regard to my lipids, a drop had been noted in the triglycerides and the results had been maintained with regard to TG/HDL and total cholesterol on HDL. This data was not optimal, but I was motivated by all the benefits that I felt as well as by the decrease in my blood pressure. In addition, this encouraged me to continue this diet.
Regarding my sugar and insulin, I was still happy to see that my insulin had dropped between the 3rd and 6th month of my experience even if I was not diabetic. Particularly for glycated hemoglobin (Hb A1c) which measures blood sugar and tends to drop very slowly compared to blood sugar. In my table, we see that it had slowly decreased since January. I also noticed a decrease in my hunger cravings around 10:30 am and 3:30 pm.
Generally, my data obtained after 6 months of the ketogenic diet had improved since previous blood tests. There was even a decrease in CRP (reactive protein C) which makes it possible to assess inflammation.
A passing trend…?
It's easy to see that the ketogenic diet has grown over time. I noticed it through comments and Facebook messages from my many readers.
What is not obvious is that for the past fifty years, we have been told over and over again how bad fat, mainly saturated fat, is and that the so-called balanced diet should be based on grains and complex carbohydrates. However, this does not prevent the fact that the rate of obesity is becoming critical and that diabetes is spreading rapidly amongst the population. The answer that is then given to us is that we eat too much or that we do not move enough, and that it is therefore our fault if we live with excess weight. I will reassure you right away! This answer is wrong! The food guide offered to us is not a promise of health, nor one that is slimming!
It is still incredible to see that the ketogenic diet, which goes against what is recommended, helps with weight loss and decreases type 2 diabetes. This perhaps just demonstrates a return to a diet that our ancestors already knew about…
Beyond 6 months
After this personal experience, I knew that I wanted to stick to carbohydrate restriction without necessarily strictly following the recommendation of the ketogenic diet. I no longer deprive myself from certain foods that have not been recommended for a long time and I appreciate the taste of fatty cheeses while retaining small pleasures based on carbohydrates (by remaining conscious and by accepting these small deviations).
I must tell you that I had a lot of pleasure from this personal experience!
Jean-Yves Dionne, pharmacist