For this holiday special, we have concocted our best appetizer recipes. They are the perfect start to a successful celebratory evening!
Happy holidays to everyone!
---
Émilie's Fig, Goat Cheese, and Caramelized Onion Appetizers
I must admit, whether it be for a special occasion or not, whenever I am receiving I almost always make this same recipe. I have yet to meet someone who hasn't enjoyed this slightly sweet and savory bite, perfect as an appetizer! If you want to impress your guests this year, you have to try this very simple, but oh-so-tasty little recipe!
Ingredients:
Artisanal pistachio and rosemary crackers (or your choice of cracker)
Caramelized onions with balsamic vinegar (homemade or favorite commercial brand)
Soft goat cheese
Fresh figs (calculate 1 fig for 4 crackers)
Balsamic vinegar coulis
Steps:
Spread a small portion of caramelized onions on the crackers
Slice thinly or crumble the goat cheese and add it over the confit.
Cut the figs in 4 or slice them; go according to your inspiration! 😉 Add the piece of fig to the goat cheese. (*Note: Know that the peel of the figs is edible! It's up to you whether you keep it or not)
Once the assembly of the appetizers is complete, place them on a serving dish and finish the presentation with a fine drizzle of balsamic coulis over all the crackers.
I guarantee these little bites will disappear real quick!
Bon appétit!
---
Samia's Wild Mushroom, Pomegranate, and Feta Rillette Canapes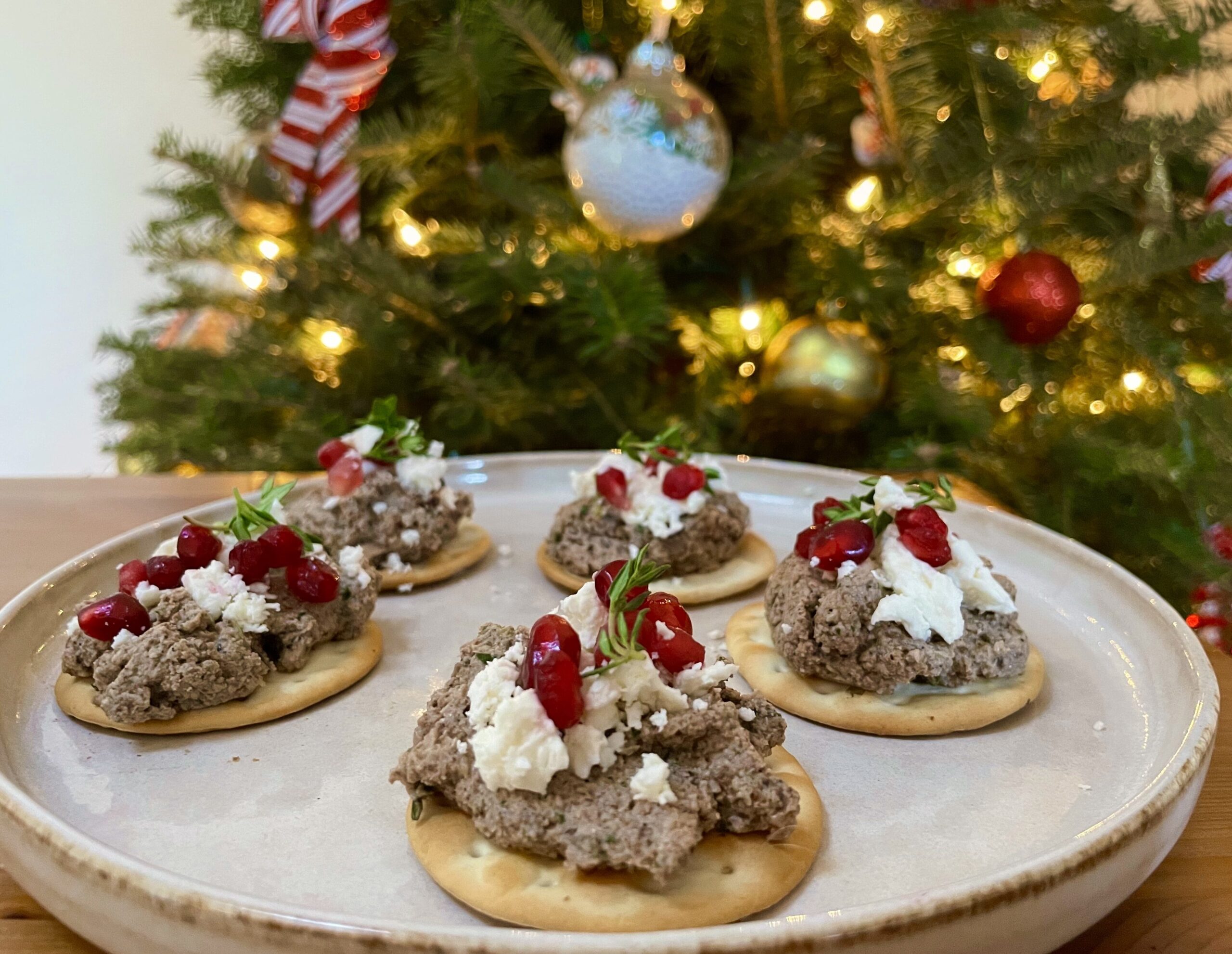 It can be difficult to know what to serve for Christmas when we have vegetarian guests (or being one yourself!). Since meat is predominant in classic holiday meals, here is a vegetarian alternative to the traditional pork or duck rillette. Pomegranate and feta also give a little color to these festive canapes!
Ingredients: 
2 cups (one package) cremini mushrooms
1 cup of oyster mushrooms
1 onion
2 cloves of garlic
1 tablespoon of olive oil
½ cup of white wine to deglaze
2 tablespoons of fresh thyme
2 tablespoons of curly parsley
1 tablespoon of fresh rosemary
Salt and pepper to taste
½ cup of pecans
1 pomegranate, peeled
Feta to taste
Steps:
Dice the onions and mushrooms, and chop the garlic and pecans.
In a pan over medium-high heat, heat a drizzle of olive oil and cook the onions for a few minutes until they begin to become translucent.
Add the garlic, mushrooms, and herbs and cook for a few more minutes. Season well with salt and pepper.
When the mushrooms are almost cooked, add the white wine and continue cooking until the liquid has completely evaporated.
In another skillet over medium-high heat, toast the pecans for a few minutes until fully toasted.
Add the toasted pecans and mushroom mixture to a blender. Add a little water gradually until you have the desired consistency.
Add salt and pepper to taste.
Serve on a crouton, toast, or cracker. Add feta and pomegranate seeds as garnish to taste.
Bon appétit !
---
Audrey's Tomato, Bocconcini, Prosciutto, and Basil Mini Skewers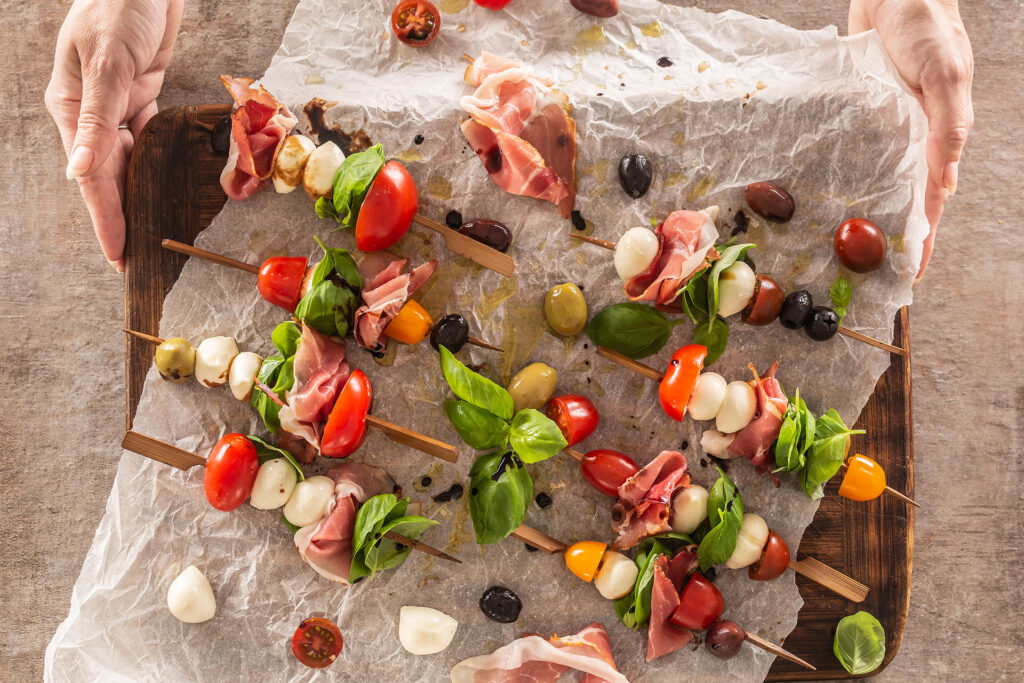 Simple and effective, these bites are always very popular when I am receiving! You can hardly go wrong with a classic like tomatoes, basil, and bocconcini, but I added a little prosciutto to give it a little saltiness with each bite.
Try it, and you will love it!
 Ingredients: 
12 cherry tomatoes
12 cocktail bocconcini
 6 slices of prosciutto
12 fresh basil leaves
Greek seasoning
Vinaigrette: 
2 tbsp. of aged balsamic vinegar
2 tbsp. of olive oil
1 shallot, finely chopped
Steps: 
In a bowl, combine all the ingredients for the vinaigrette and set aside.
On mini-skewers or large toothpicks, alternate between a cocktail bocconcini, a fresh basil leaf, half a slice of Prosciutto, and a cherry tomato.
Add the vinaigrette to the skewers and sprinkle a pinch of Greek seasoning on the skewers.
Enjoy!
---
Vicky's Grilled Portobello Mushroom Appetizers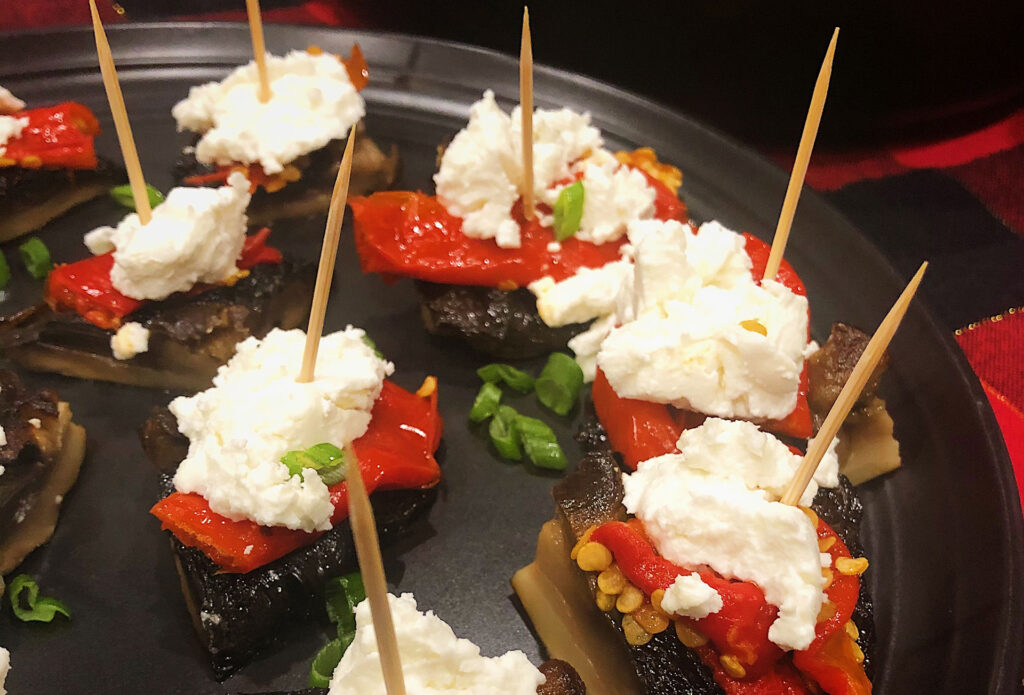 One vegetable I cannot live without would be mushrooms! Our household absolutely adores eating this recipe, especially as a side dish in the summer, and it was one of the main reasons for the purchase of our indoor smokeless grill for those colder months. If you don't have a smokeless grill, not to worry, as regular pan-searing would work just as well; you simply won't have the grill marks or charring.
During the holidays, this appetizer will definitely get those taste buds buzzing and ready for the feast and celebration ahead! Warmest wishes and Happy Holidays to you all!
Ingredients (approximately 24 – 36 appetizers):
½ cup of olive oil
¼ cup of red wine vinegar
2-3 large sweet peppers sliced into quarters, or the pepper of your choosing
6 large Portobello mushrooms
Salt to season
300g of unripened goat's milk cheese
A handful of chives or green onion chopped thinly for garnish
Steps: 
In a small bowl, add your oil and vinegar and mix with a basting brush. Season your cleaned Portobello mushrooms and peppers with salt and baste with your oil and vinegar mixture.
On your hot grill or pan, place your Portobello mushrooms and pepper pieces. Baste your vegetables every so often so as not to dry out, and allow your vegetables to shrink and soften, occasionally flipping. Depending on the thickness of your mushrooms and peppers, this process should be completed in approximately 15-20 minutes.
Remove your vegetables from the grill and cut your mushrooms into 1/4 or 1/6 portions. Slice your pepper pieces into enough slices to accommodate all your mushroom portions and place each sliver of grilled pepper on top of your mushroom slice and add unripened goat's milk cheese on top.
Keep your appetizer together with a cocktail pick and plate with a sprinkle of chopped chives as garnish.
Cheers!
---
Éric's Spicy Crab Avocado Appetizer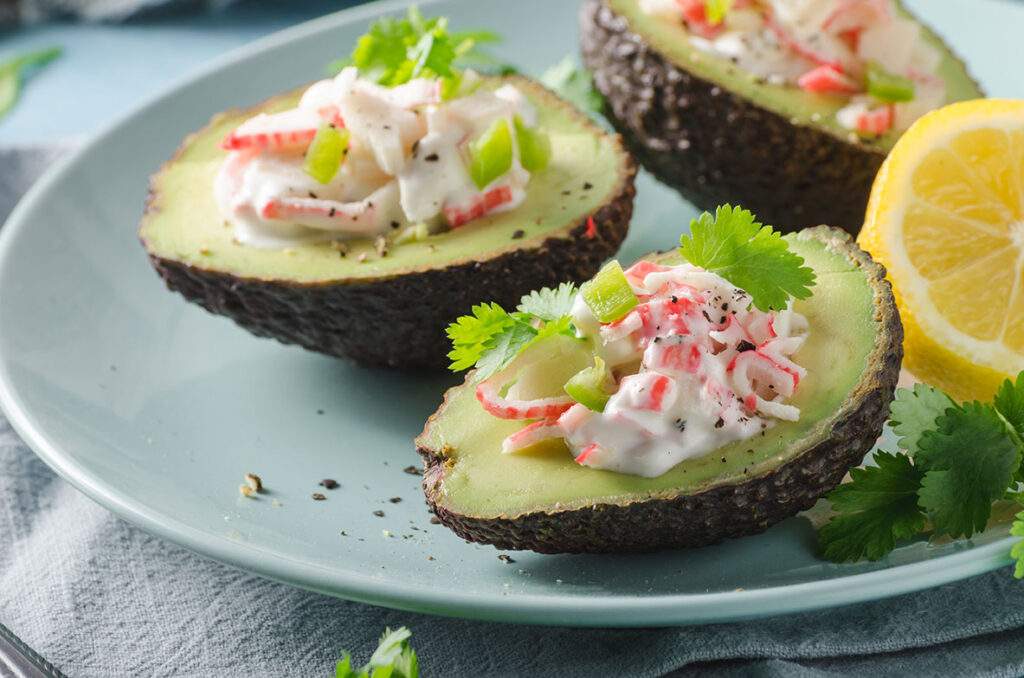 I love this easy little recipe which, in addition to being very tasty, blends textures well, and allows us to eat the good fats and vitamins of avocados. This recipe allows them to be incorporated a little more into the diets of your family members and friends!
The pollock in this recipe can be replaced by Matane shrimp or real crab if you and your wallet feel like it. Bon appétit!
Ingredients:
2 slightly tender avocados (ripe)
Lemon juice
U
A small packet of pollock or spicy crab preparation that can be found at the fresh fish section in some grocery stores (prepared on site).

To make from scratch, you will need:

Shallots (to taste)
½ cup of mayonnaise
¼ teaspoon of Sambal Oelek type of chili paste
Steps:
To make the homemade preparation of spicy crab, start by breaking up the pollock into small shreds. Cut the shallots into small pieces to taste. Mix about ¼ teaspoon of chili paste (adjust to your tolerance of heat) with ½ cup of mayonnaise, and add in the shallots.
Cut the avocados in half lengthwise, keeping the skin on. Remove the stone and enlarge the hole a little to have a slightly larger and more uniform space to place the spicy crab preparation. Add a little lemon juice to reduce the oxidation of the avocado before serving, and add the spicy crab mixture from the grocery store or the one that was homemade onto the avocado.
Serve on a few small salad leaves so as to utilize as a fork.
Bon appétit!