Founder of the Martial Movement program, Marcelin Cantin is president of Groupe Karaté Sportif, whose personal development program is taught in more than 100 schools and daycares in Quebec. With his extensive experience in teaching, he is the author of: "Vérités… des petites aux grandes" and "Ma sécurité, ma liberté"; as well as educational guides: "Sois, le héros de ta vie" and "Découvre l'espion en toi".
It was during his studies at the University of Montreal and then at the University of Quebec in Montreal, in the teaching program of physical activity, that he focused both on competition and on the teaching of martial arts. During this period, the ASADefense.com security program (for assault prevention) and the Groupe Karaté Sportif were created.
Since 1992, his primary mission has been to inspire and guide people of all ages to achieve and maintain personal growth.
Today, Marcelin is happy and very proud to have the privilege of teaching all age groups; from the age of 22 months, the "Super Heroes" program, to teaching passion for life, through the "Martial Movement" program for our elders, people who contributed to the construction of modern Quebec.
Thank you!
But what is Karaté Sportif and its unique programs?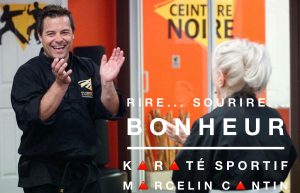 The Groupe Karaté Sportif programs are activities that integrate personal growth, physical and mental fitness, self-defense, and of course, fun! His practice is actually designed to strengthen the body and mind.
To fully understand Karaté Sportif and learn more about martial arts, you must first know that there are several schools of thought. What differentiates all the practices of karate and their schools is the approach used, the message that they want to convey and the objective to be achieved.
The Groupe is characterized by a very specific approach focused on combining the karate program with a personal development program. In fact, in addition to getting kids and adults moving, coaches also act as life coaches. Using the drills that the coaches give to the students, it is thus possible to ensure that the practice of this discipline really has a positive effect on the lives of its followers.
The goal is therefore to develop good habits and attitudes in all aspects of a members' life. The Groupe Karaté Sportif logo expresses this thought well. It is indeed a triangle, an important symbol for the group. The triangle has a stable base and three points which represent the three important aspects in the life of a human being, who practices Karaté Sportif, that is to say in karate of course, but also in the work/school and home/social life. By adapting the philosophy of the Groupe Karaté Sportif to all these aspects of a human life, the Groupe Karaté Sportif can boast about keeping its students for a long time.
Karaté Sportif schools are also called "Black Belt Schools". In fact, as soon as students begin their training, they are conditioned for success. Indeed, we teach them that they are able to access their black belt and we motivate them to already behave like a black belt, that is to say, to practice self-control, concentration, confidence, to be motivated, and involved. It's a very inspiring approach.
The Groupe Karaté Sportif offers several courses such as karate, kickboxing, tae-bo, self-defense, "MMA" (mixed martial arts) and boxing.
The benefits of practicing Karaté Sportif
Martial arts are known to help with focus and develop a healthy mind in a healthy body. Among other things, you learn endurance and coordination, but also this sport allows you to better channel your energy and develop discipline and self-confidence. It is often said that karate is not only a combat sport, but also a practice that respects certain moral codes.
The courses offered
The practice of this sport is really accessible to all. Indeed, the "school of life" of the Groupe Karaté Sportif offers lessons to children starting from the age of 22 months old. Thereafter for children between 4 and 5 years old, are the Ninjas, where we talk about the initiation into martial arts. It is even guaranteed that after only one month of lessons, will parents notice a change in attitude in their children. It is also important to mention that it is possible to take classes as a whole family unit. Parents and children can therefore indulge in a sports activity together without having to reconcile several schedules or run to several places. You also don't have to be in great physical shape to get started. The courses are adapted to be accessible to all.
Martial Movement, a unique and revolutionary program
The Martial Movement is a new way of life. It aims to strengthen the body and the mind. The practice of this martial art appeals more and more to the Seniors who discover at their own pace, a system integrating personal growth, physical and mental fitness, self-defense, and the fun from entertainment and socialization.
Our Mission: To inspire you
Our aim: To make you a better person
Our goal: To achieve excellence as a black belt
With Karaté Sportif "I am capable of success"
To find out more about the Groupe Karaté Sportif, visit their website!